I was born in WY, grew up in ND and have spent the last 45 of my 74 years in MT. I attended college in SD and then received my MS and PhD in ND.
I met my husband, Patrick, in graduate school. We share many interests that involve dogs, many facets of the outdoors, the environment, and our family and friends. Patrick owns his own environmental consulting business for which he is the wildlife biologist.
I used to be a full time aquatic biologist but retired in 1995 to indulge my love of puppies, beads, beaded items, antler baskets to name a few interests. I created a business, TurtleBear's Canines & Collectibles, that would help me with my volunteer involvement and devotion to getting trained service dogs to disabled children. The Collectibles part of my business name includes the items carried in this store where I sell many beads that were made in Europe as much as 500 years ago. I also carry a variety of metal beads. And when I have time to be creative, I offer my drums, antler baskets, trade bead jewelry, beaded items like smudge feathers, primitive flint knives, key chains, etc.
The Canines part of my business name refers to my volunteer work for service dog organizations as a puppy raiser and to donate a portion of my sales to the programs. I have raised 10 service pups for Canine Companions for Service Dogs, New Horizons Service Dogs, and Loving Paws Assistance Dogs. For many years I was also registered with Therapy Dogs Inc. as a therapy team with my dogs Joy and Buddy and as a Tester/Observer. I also am involved in canine rescue. Please visit the Canines pages for more information on the dogs in my life.
My life has been enriched by being able to combine my love of dogs as pets, as service dogs and as therapy dogs with my love of old beads and my creative projects. Canines & Collectibles is depicted by my dear Joysie who will patiently indulge what might seem to her to be a very silly idea!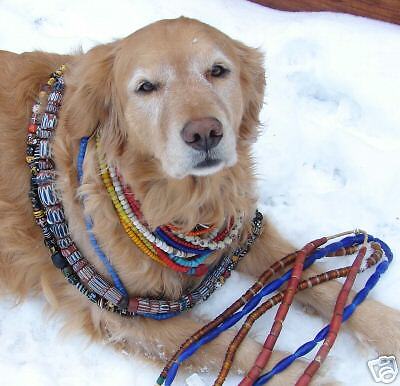 Thank you for visiting my website and supporting my business.
Blessings,
Carlene